Certified Sustainable Tour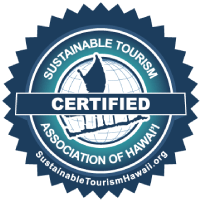 Address
PO Box 491 Kahului HI 96733
Sustainable Tourism Association Of Hawaii
The Sustainable Tourism Association of Hawaii (STAH) developed a rigorous checklist that helps businesses operate in the most sustainable manner possible here in Hawaii. There are certain things we know businesses can do to help make the environment a little better and cleaner.
Ourselves and our vendors have gone through the training, checklist and on-site auditing steps so we know what is expected of us when it comes to sustainable operating practices. Itʻs made the companies better.
Please support those companies that are working hard to make their operations, their community impact and their guests footprint as small as possible.
Purchase a tour below or donate to this non-profit today.